Laying the Foundation

Clusters of buildings, standing in rows as if having been planted; clusters that we refer to as "cities" or "towns". And at the front of each of the largest of these buildings is a stone upon which is invariably inscribed the word "Established". This stone, laid in place as the building awaits the finishing touches, celebrates the work that has already been safely completed and offers prayers that the remaining work may also be completed without incident, that the building will be long-lasting, and that the company will prosper.
Stone masonry has its roots in Europe. The cornerstone as a standard masonry tradition originated from a European ceremony to mark the laying of a foundation stone at the corner of each building. The orthodox cornerstone laying ceremony involves burying beneath the cornerstone a lead box in which are sealed such items as the building's floor plans, that day's newspaper, local currency, the company's history, and expressions of gratitude to the local patron saint.
The cornerstone, important as both the foundation of the building and as a receptacle for the prayers of the many people involved in its creation, is customarily placed at the southeast corner of the building. So if you happen to lose your sense of direction amidst a city's towering buildings, all you have to do is use a cornerstone as your compass and let it guide you where you wish to go.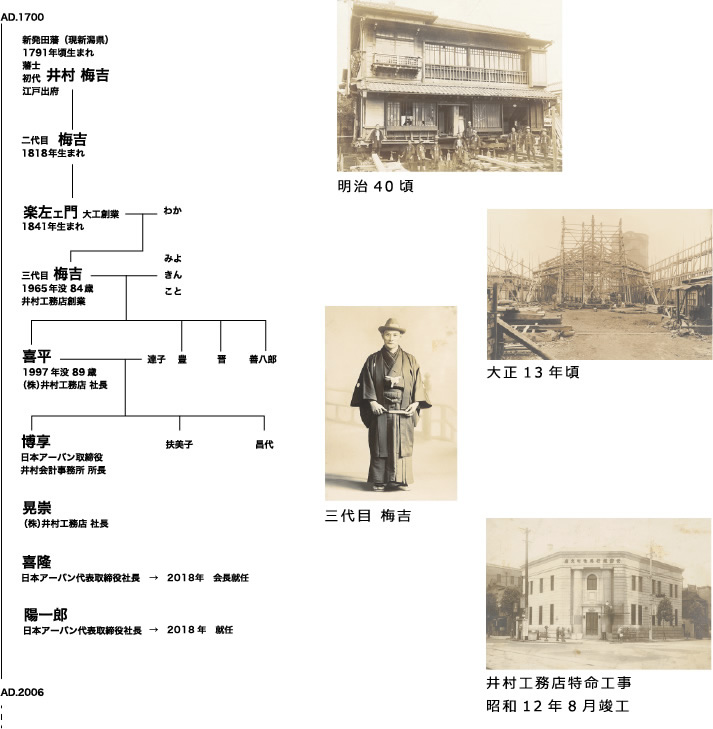 Looking Back, Looking Forward

In 1971, when our company was founded, the term "urban" in reference to cities or towns was not well known. Hoping to find a name that would not have to be changed as our small company grew into a major corporation, I encountered the word "urban" while searching through English words related to architecture. "Urban" seemed to me to have a somewhat German sound to it and I felt it was an appropriate name to which we could entrust our future.
Thereafter, "Urban", written in the Japanese "katakana" alphabet, gained recognition as the name of a company engaged in construction, design, and real estate, and I secretly brag to myself that it we are the forerunners in our field.
Technical Expertise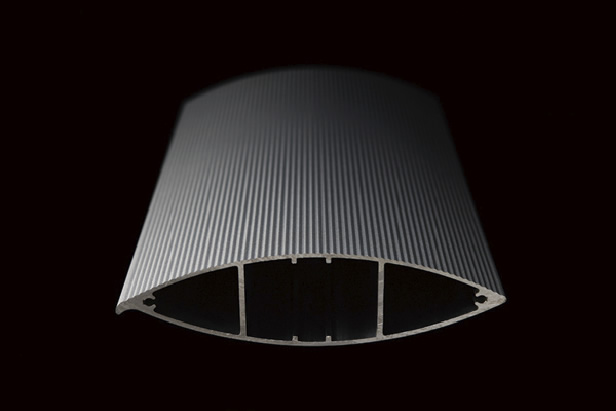 アルミ押出型材
Nihon Urban, since it founding in 1971, has specialized in interior and exterior work for buildings and other large-scale architectural structures, accumulating a long list of achievements and developing a vast storehouse of professional expertise. We provide a full range of services for interior and exterior work utilizing metal materials, with a special focus on aluminum and stainless steel. These services cover everything from design on up to post-construction management. Our achievements in this area have earned the praise of general contractors and other of our clients for the excellent quality of our technology, our value engineering (VE) proposals, and our management and supervision skills.
Our true expertise lies in expansion metals. We have concluded an agreement with a prominent domestic manufacturer, ABC Trading Co., Ltd., and are able to provide both standard and custom-made products alike. Utilizing honeycomb panels, extrusion materials, and other imported products that facilitate the expansion that strengthens earthquake-resistant construction, the marketplace has recognized us as providing quality materials at competitive prices. This is the result of our accumulated experience and expertise coupled with our superior design capability made possible by our close collaboration with overseas manufacturers.
Nihon Urban intends to go on working globally in order to provide "Made by Nihon Urban" products that combine the perfect balance of quality and price required to meet the latest needs of the Japanese domestic market. And we will continue to enhance our collective capabilities to enable us to continue making a meaningful contribution to the social infrastructure of Japan.
Creating Community Comfort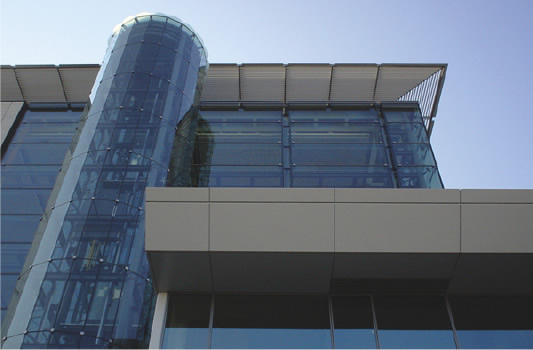 エプソン イノベーションセンター
Nihon Urban believes that a city's true beauty, and the true appeal of its environs, lie in the common pubic values and precious community assets that are shared equally by the many people who congregate there. It's for this very reason that our work ― adding the finishing touches to these valuable assets ― is of particular importance. Creating spaces that are pleasing to the eye, where time can be passed in comfort, these are the very minimum prerequisites we set for our work and only one part of our overall objectives.
Nihon Urban's global network enables us to offer competitive prices while providing such important standard construction features as earthquake-resistant and fire- and disaster-proof architecture. But more than this, it also allows us to passionately dedicate ourselves to work that reflects our care for the environment and our desire to preserve energy and natural resources. In order to create urban environments that produce invigorating smiles and elicit reactions of "Ah, it feels so great here", we will continue to devote our every effort to work that is truly fulfilling.
Technical Expertise

Technical ExpertiseNihon Urban is a small company; but the projects we engage in are large-scale and fill us with a sense of accomplishment. As projects increase in size, the number of companies involved and the degree of human interaction also increases. This, in turn, means that extensive communication skills are required to support the collaboration needed for joint projects that depend on each party helping, understanding, and complementing the roles of its co-workers. Determined to sharpen these skills and remain ever mindful that good communication is of key importance in gaining recognition for Nihon Urban as a small, elite group of polished professionals, all of our employees are encouraged to communicate actively and learn to be held in high esteem by our clients and customers.
Nihon Urban firmly believes that these assiduous efforts will be naturally reflected in our annual performance in the years to come as we continue to strive for sustainable growth, pushing forward one careful step at a time.